Professional Activities
Congress, showcase festival and music fair, jazzahead! 2022 is back for a new edition in Bremen (Germany) from April 28 to May 1, 2022.
In 2022, VI.BE and Wallonie-Bruxelles Musiques are joining forces again, in collaboration with Sabam For Culture, to introduce foreign jazz professionals to all that the Belgian jazz scene has to offer. Like previous editions, VI.BE and WBM will share a large stand under the Belgium Booms banner with the support of Visit.Brussels. All information related to the event is included on the Belgium Booms website.
The following professionals have been invited to join the event : François Vaiana, Laurent Cordier (BYP Asbl), Cathy Lorge (Artedon), Bouchra Hbali (Zoart), Thomas Champagne, Tom Bourgeois, Marylène Corro (Codesco), Kostia Pace (JazzStation), Paméla Malembré (Aubergine Artist Managment), Giuseppe Millaci (Hypnote Records), Lynn Dewitte, Akram Ben Romdhane, Théo Zipper, Audrey Di Troia (Full Colorz Agency), Michel Debrulle (Collectif du Lion), Manuel Hermia (Jackal Productions), Poney Gross (Zig Zag World), Paul Imberchets (Travers Emotion), Henri Vandenberghe (Scene Off), Julien Marga, Geoffrey Fiorese (Terpischore)
Image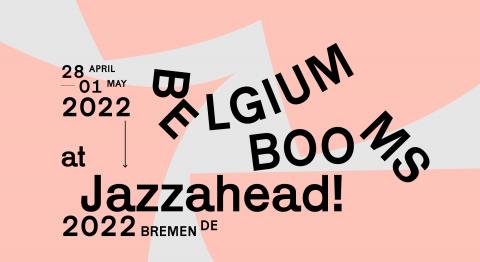 The jazzahead! Festival, which has been taking place before and during the international jazz meeting since 2011, presents the art and culture scene of an annually changing partner country as well as bands from all over the world in the Hanseatic city in cooperation with around 60 regional, national and international cooperation partners. At the trade fair weekend itself, the program will culminate in 30 venues with 40 showcase concerts, Gala Concert & Clubnight.