Artists from Wallonia
and Brussels
Professional Activities
For this new edition of C/O POP, we will once again be partners of the festival and on site with professionals from Wallonia and Brussels. All the information is listed on the Belgium Booms website.
Our director Julien Fournier will also participate in a panel entitled "Mentoring by MEWEM Europe / Role Models are key" which will take place on Friday April 22 at Cinenova.
The following professional have been invited to join the event: Maximilien Lhussier (Odessa), Sandra Werner (Nfaly Kouyaté), Philippe De Coster (62Tv Records), Lyne Brennac (Beats'N'Roots), Rafael Espinel (Si Asbl), Tom Bourgeois.
Image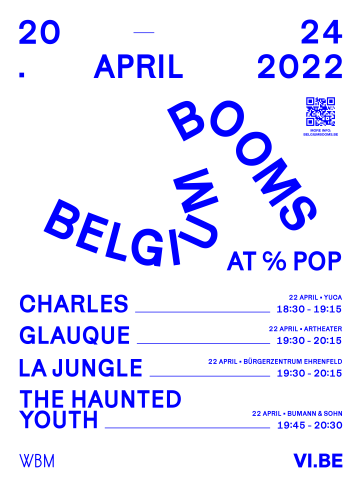 The c/o pop Festival has been bringing national and international acts from the fields of electro, indie, hiphop/rap and related styles to Cologne's stages since 2004 - including both established artists and newcomers. In recent years, the focus has increasingly shifted towards national newcomers - after all, c/o pop sees itself as a festival of discovery.