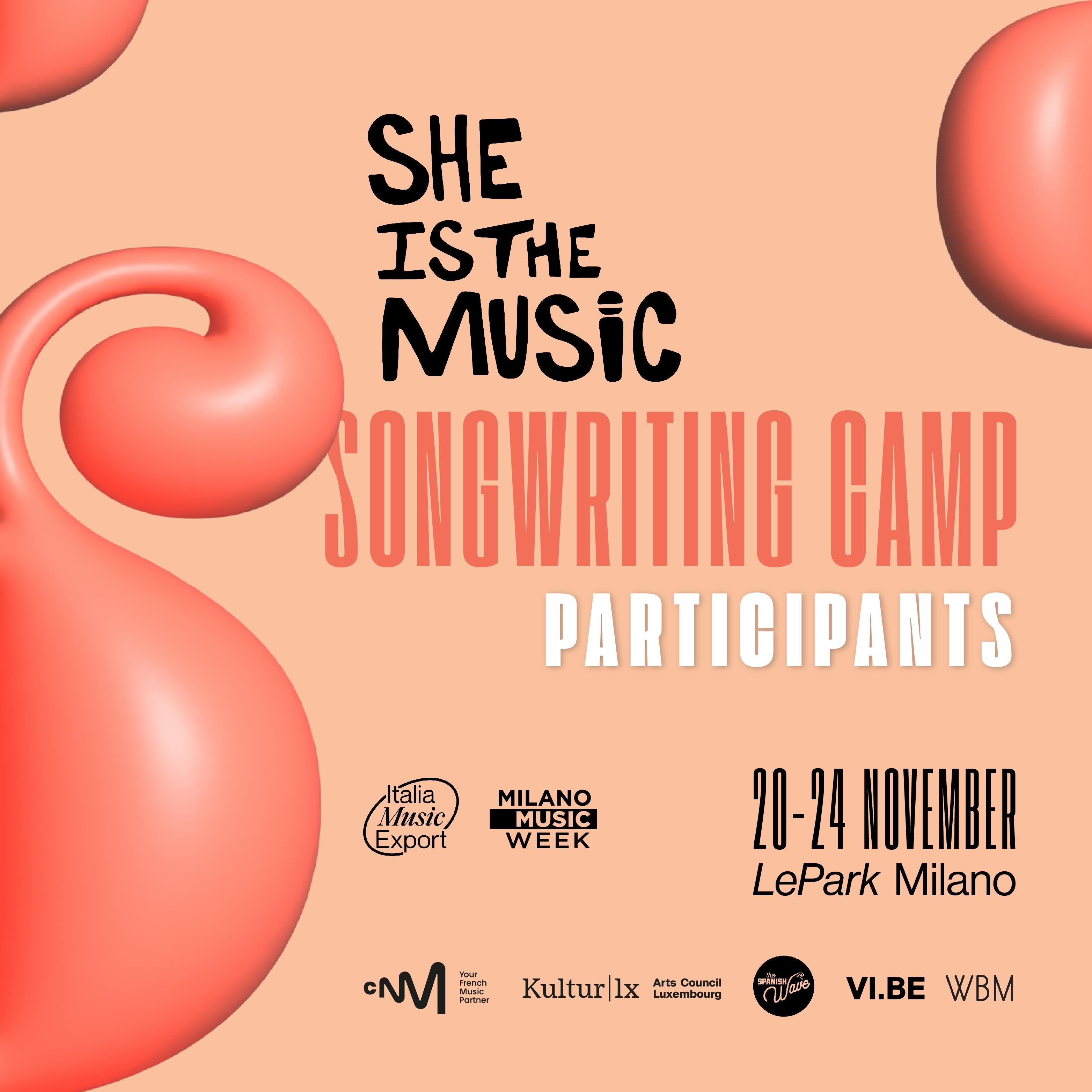 29 June 2023
She Is The Music Songwriting Camp
Here are the names of the 14 participants
Italia Music Export and She Is The Music are excited to announce all the artists who will take part in their international songwriting camp dedicated entirely to creative women in music.
She Is The Music International Songwriting Camp will take place during Milano Music Week — a must-attend event that gathers all the major players in the Italian music industry — from November 20 to 24 at LePark studios (Milan), where six Italian artists will join eight international music creators for five exciting days of co-writing sessions.
This will be the first camp targeting 100% women powered by Italia Music Export: a great opportunity to provide space, support and visibility to women in music while giving Italian artists the chance to build long-lasting relationships with their international counterparts.
She's The Music Songwriting Camp is produced in partnership with CNM — Centre national de la musique, WBM — Wallonie-Bruxelles Musiques, VI.BE, Kultur | lx and The Spanish Wave.
ML (WBM) and Reinel Bakole are the two artists selected to represent Wallonia-Brussels this year. Check the rest of the participants below.
She Is The Music Songwriting Camp 2023 Participants
ML (WBM)
Reinel Bakole (WBM)
Adja (VI.BE)
Blu Samu (CNM)
Lazuli (CNM)
C'est Karma (Kultur.Lx)
Matilde Davoli (Italia Music Export)
Anna Bassy (Italia Music Export)
Marta Tenaglia (Italia Music Export)
HU (Italia Music Export)
Emma Nolde (Italia Music Export)
ceneri (Italia Music Export)
Sila Lua (The Spanish Wave)
Xenia (The Spanish Wave)
Listen to the Spotify Playlist She Is The Music Songwriting Camp