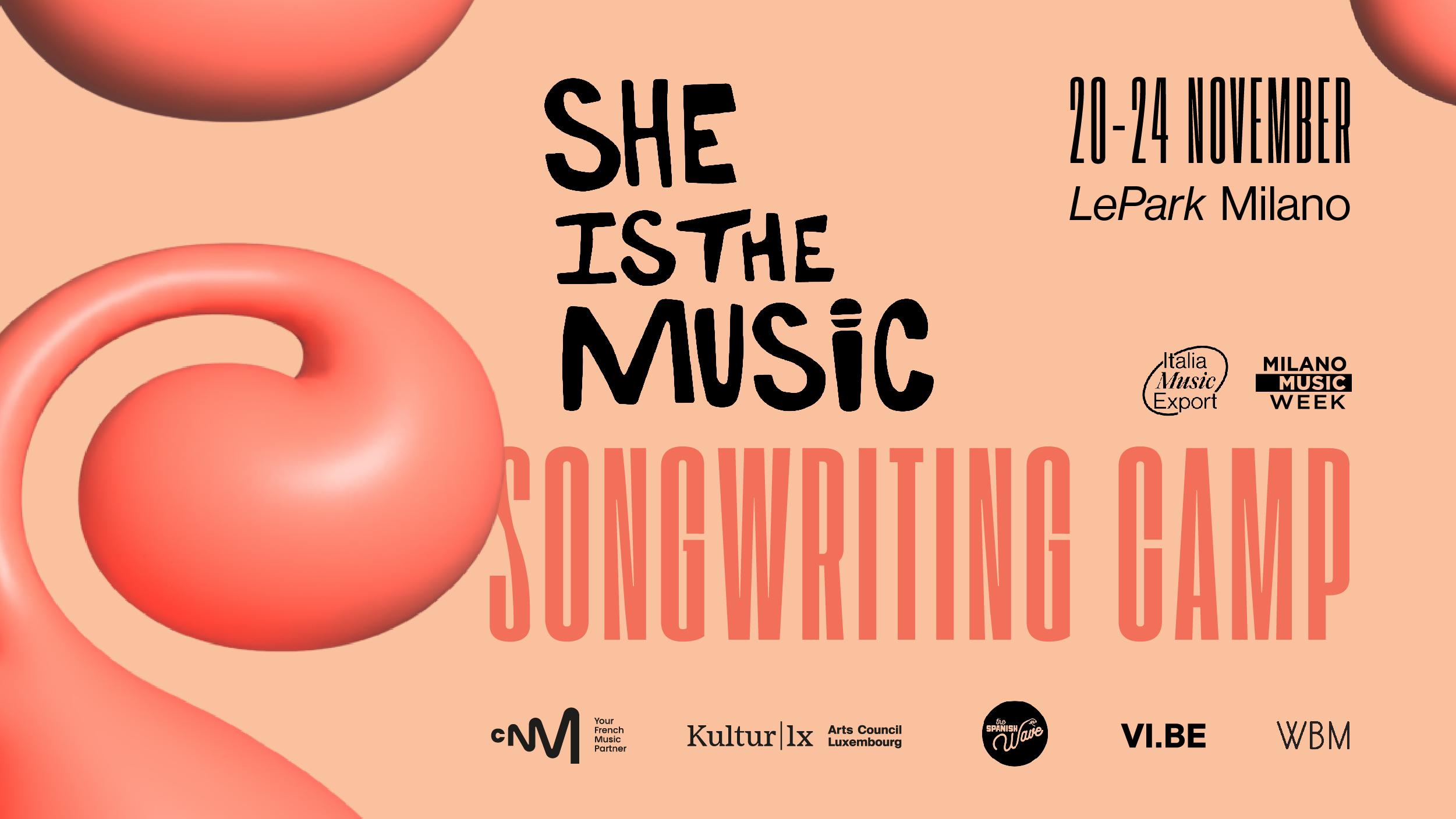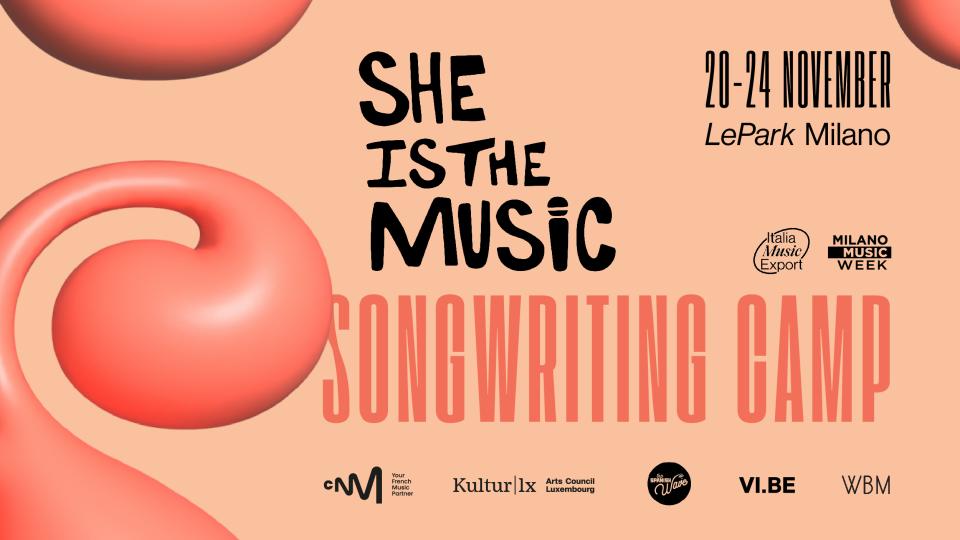 10 May 2023
She Is The Music Songwriting Camp
Applications for artists are now open
Italia Music Export and She Is the Music join forces to host an international songwriting camp dedicated entirely to creative women in music.
Ce camp est prévu aux studios LePark, où six artistes italiennes feront équipe avec six artistes internationales. A la demande d'Italia Music Export, ce camp international d'écriture sera soutenu par Wallonie-Bruxelles Musiques, Le CNM, The Spanish Wave et Kultur | lx.
The camp will take place during Milano Music Week — a must-attend event that gathers all the major players in the Italian music industry — from November 20 to 24 at LePark studios (Milan), where six Italian female artists will join six international music creators for five exciting days of co-writing sessions.
What is She Is The Music ?
She Is the Music was launched in 2019, including among its founder American chart-topping singer Alicia Keys, with the aim of increasing the number of women in music, from artists and producers to engineers and songwriters: it's an independent, global network that operates as a unifying organization for women from across the industry, creating strength and impact on a global scale.
Both She Is The Music and Italia Music Export have been organizing international writing sessions for years now. This will be the first camp powered by Italia Music Export targeting 100% women: a great opportunity to provide, space, support, and visibility to women in music while giving Italian artists the chance to build long-lasting relationships with their international counterparts. Since the camp will be held during Milano Music Week, Italia Music Export is also planning to organize a music panel in collaboration with She Is The Music, involving all participants.
She Is The Music Songwriting Camp is produced by Italia Music Export and She Is The Music in partnership with CNM — Centre national de la musique, WBM — Wallonie-Bruxelles Musiques, The Spanish Wave and Kultur | lx.
When and where will the camp be held?
The camp will be held from November 20 to 24 at LePark's studios in Milan, Italy. Artists are encouraged to arrive in Milan on the evening of November 19, and they are free to leave from the evening of November 24. Participants must be available for the whole duration of the sessions.
How will the writing sessions work?
LePark will provide 4 studios for 12 female artists, who will be divided into groups of 3 every day. Music creators will be free to write as they wish but will also have the opportunity to receive briefs from both Italian and international labels and publishers, mainly in the area of pop, rap, and electronic music. Each group is encouraged to write one song per day. Artists, publishers, and professionals will join together on the last day for a listening session that will also serve as a valuable networking opportunity.
What language should songs be written and sung in?
There is no preference; artists are encouraged to write and sing in the language in which they feel most comfortable.
What are the selection criteria?
Preference will be given to artists who identify as female, specifically those who are already signed to a publisher and plan to be joined by them during the listening session on November 24. The ideal candidate is highly motivated, has already participated in songwriting camps, and has experience on an international scale (i.e. featuring, touring, live…). The goal is to create a good mix of artists balancing the roles among producers, songwriters, performers, etc.
What expenses are covered?
Italia Music Export and She Is The Music will provide access to the studios. The Italian office will take care of the logistics, provide lunches for the artists and organize the listening session at the end of the camp.
Wallonie-Bruxelles Musiques will cover international and local transport costs as well as accommodation (a hotel where the artists will be accommodated will be submited later).
How do I apply?
You can apply by filling out this form. The deadline is set for 10.06.2023.


Submit your application for She Is The Music Songwriting Camp